Cities, climate change and MDBs: cooperation, action and delivery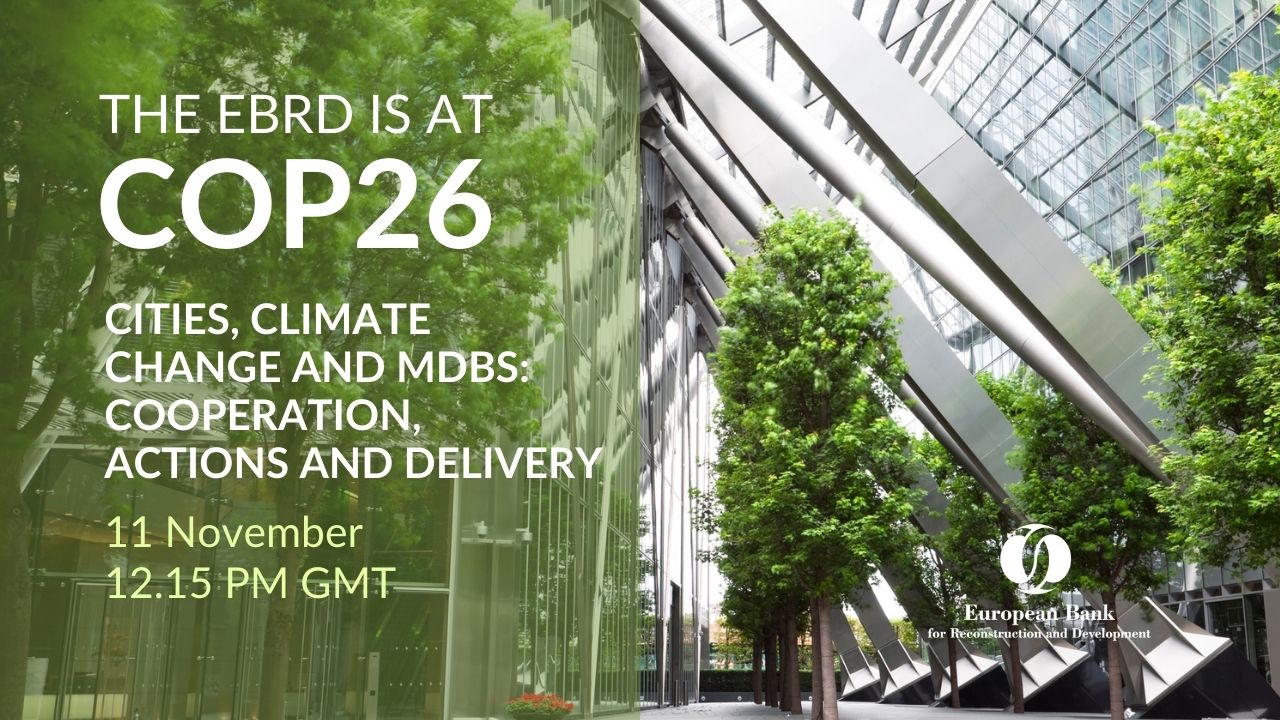 Date: 11 November 2021
Time: 12.15 – 13.15 PM UK-time
Link: watch the livestream here
Cities sit at the vanguard of our global ability to address climate change. While just over half of the world's population is urban today, more than two-thirds will live in cities by 2050. Simultaneously, cities represent just under three-quarters of global greenhouse gas emissions. The expected, unprecedented growth in urban areas across the globe represents an opportunity to reshape our infrastructure and economies to decouple urban expansion and productivity from emissions and resource consumption.
COP26 represents a moment for all invested parties to increase their climate ambitions as part of the Paris Agreement, with cities being an essential component in that movement. Over the next three decades, all of our systems from the energy we generate, to our food, to our means of transport and the goods we make and consume will need to align under common goals to reduce emissions and adapt to a changing climate. The good news is that many of the technologies and policies needed to achieve the 2050 goals are available today, but finance needs to be mobilized at a global scale to ensure a successful transition to a net-zero and resilient future.
Multilateral Development Banks can play an essential role in mobilising finance to support climate action in cities and realise the goals of the Paris Agreement. This side event will present the actions MDBs are taking to support meaningful investments for urban decarbonisation and resilience across the globe. The event will highlight the collaboration between MDBs, with the public and private sector, and with CSOs to enable impactful change in cities. Last, the event will highlight the investment and impact goals for cities each MDB has agreed to deliver.
Moderator
Barbara Buchner, Global Managing Director, Climate Policy Initiative, CPI
Keynote
Stephen O'Driscoll, Head of Environment, Climate and Social Policy, European Investment Bank, EIB
Panel
Manoj Sharma, Chief of Urban Sector Group, Sustainable Development and Climate Change Department, Asian Development Bank, ADB
Stefan Atchia, Manager Urban Development Division, African Development Bank, AfDB
Lin O'Grady, Associate Director, Co-Lead EBRD Green Cities, European Bank for Reconstruction and Development, EBRD
Tatiana Gallego, Division Chief, Urban Development and Housing Division, Inter-American Development Bank, IaDB
Vivek Pathak, Global Head and Director of Climate Business, International Finance Corporation, IFC
Daouda Ndiaye, OIC Head of Climate Change Practice, Islamic Development Bank, IsDB
Sameh Wahba, Global Director, Urban, Disaster Risk Management, Resilience and Land Global Practice, World Bank
EBRD is at COP26. The full programme of events is available here.