EBRD GREEN CITIES: EGYPT LEADING IN AFRICA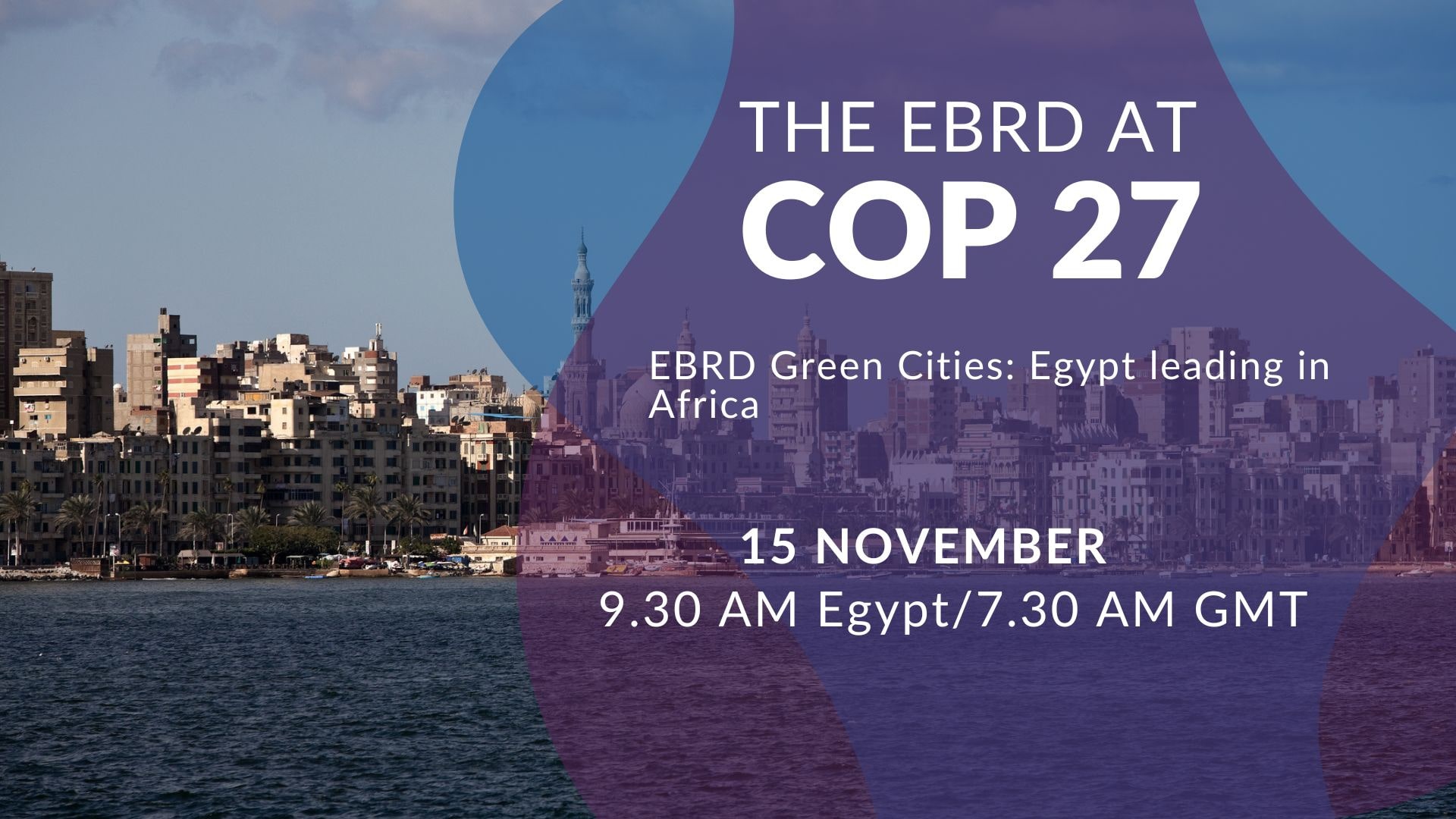 Date: 15 November 2022
Time: 09:30-10:30 Egypt time / 07:30-08.30 GMT
Location: IETA Pavilion, Blue Zone, Area C, P123, COP27
6th of October City, Alexandria and Cairo are leading the way in Egypt for meaningful city action as part of EBRD Green Cities.
EBRD has supported 'trigger' infrastructure investments to instigate the development of Green City Action Plans (GCAP) for each city.
The purpose of this event is to showcase these cities' leadership, and lessons learned from more than 40 EBRD Green Cities.

Keynote speaker:
Sue Barrett, Director, Head of Infrastructure Türkiye, Middle East and Africa, SIG, EBRD
Speakers :
Dr. Mohamed Abdel Gawad Allam, Head of Multilateral Cooperation, Ministry of International Cooperation (MOIC), Egypt
Dr. Abdel Khalik Ibrahim, Assistant to the Minister, Ministry of Housing Utilities and Urban Communities (MHUUC), Egypt
General Mohamed Taher El Sherif, Governor of Alexandria, Egypt
Eng. Ahmed El Sewedy, President & CEO, Elsewedy Electric
Dalia Wahba, Deputy CEO and CIO, Hassan Allam Utilities
Dr. Maged Mahmoud, Technical Director, Regional Centre for Renewable Energy and Energy Efficiency (RCREEE)


Moderator:
Lin O'Grady, Associate Director, Deputy Head Sustainable Infrastructure Policy and Project Preparation, EBRD
MC:
Nigel Jollands, Associate Director, Sustainable Business and Infrastructure, Climate Strategy and Delivery, EBRD
For the programme of EBRD livestreamed events at COP27 please visit ebrd.com