EBRD Green Cities: voices of resilience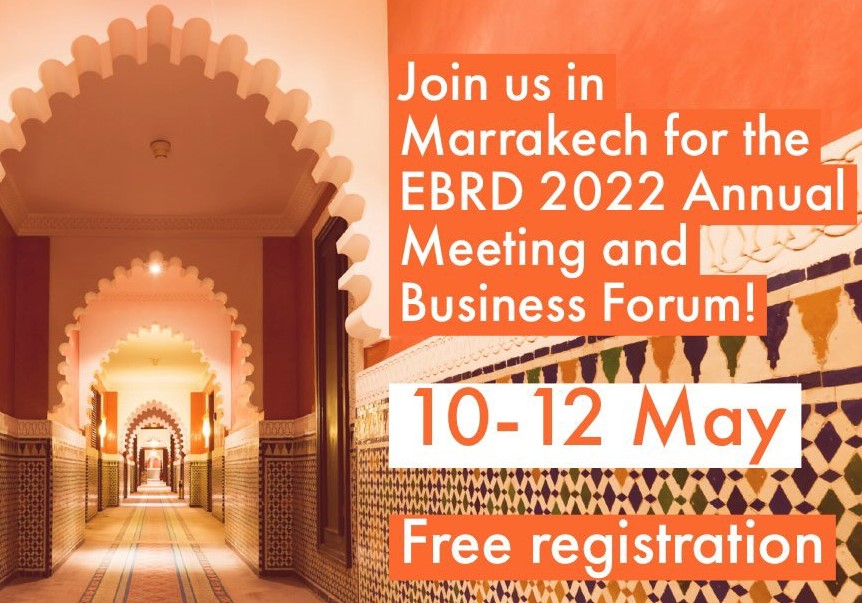 Date: Thursday 12 May 2022
Time: 10.30 – 11.30 AM WAT / BST
Livestream: view here
Programme: ebrd.com/am
EBRD Green Cities helps, to improve the lives of millions of people – by investments ranging from increasing access to water, to upgrading public transport and improving the sustainability of a city's energy system.

The event will highlight how sustainable infrastructure ensures resilience and explore how cities can learn from and support one another in times of crisis.

Broadcasting live from several of EBRD's Green Cities, citizens from three of these municipalities will tell their stories, reflecting on both personal and community resilience, and linking their local context to the global one. Their questions to the panel of decision makers and urban thought leaders will ask how governments can support their citizens in difficult times to create truly 'sustainable cities' now and in the future.
The event is part of the EBRD Annual Meeting & Business Forum 2022, which takes place from 10 - 12 May in Marrakech, Morocco. For more information or to register to attend the event in-person please visit ebrd.com/am.
Welcome remarks:
Nandita Parshad, Managing Director, Sustainable Infrastructure Group, EBRD
Panel:
Fatma Sahin, Mayor of Gaziantep, Metropolitan Municipality of Gaziantep, Turkey
Edin Forto, Prime Minister, Government of Sarajevo Canton, Bosnia and Herzegovina
Serhiy Kiral, Deputy Mayor of Lviv, Ukraine
Shams El Din Abdel Ghaffar, Managing Director, Infinity EV Division, Infinity Energy, Egypt
Sue Barrett, Director, Head of Infrastructure, Turkey, Middle East & Africa, EBRD
Sami Hourani, Founder & CEO, Leaders of Tomorrow | FORSA | Souq Fann, Amman
Seda Müftüoğlu Güleç, Architect, Green Building Expert, Gaziantep Metropolitan Municipality, Department of Housing and Urban Planning
Benjamin Crljenković, Student, Faculty of Agriculture and Food, University of Sarajevo, Bosnia and Herzegovina
Moderators
Lin O'Grady, Deputy Head, Sustainable Infrastructure and Project Preparation, Co-Lead EBRD Green Cities, EBRD
Nigel Jollands, Associate Director, Climate Strategy and Delivery, Co-Lead EBRD Green Cities, EBRD